A gloriously sunset was the backdrop on Thursday evening as Belcoo Senior Ladies returned to Club Players League action. They produced an excellent second half of fast flowing and slick football where the right decision was taken as they powered to a convincing win after a tight opening half. A quartet of Sam Martin goals in the last 20minutes putting the game well beyond Knockninny.
Belcoo flew out of the blocks and hit the net 31seconds into the contest, Sinead Barrett and Ciara Parker involved in creating an opening for Elaine Maguire who made no mistake with a low drilled shot. Sam Martin claimed the kickout, Seana Feeley played a one-two with Maguire before finding Michelle Cullen off the shoulder for the point.
Eve & Sinead Barrett combined on the right with 15year old Ciara Parker thumping to the net from an angle after 3minutes. Knockninny hit a free before Belcoo worked the ball downfield. Riona Keaney nailed her kickouts all night, this one found Kelly Connolly free on the left, Scarlett O'Connor was showing, she gathered, Cara Gray timed the support run, she received the ball, found Sinead Barrett who in turn fisted across to Sam Martin and she landed a great score from just inside the 'D'. Elaine Maguire had accounted for the next point while Molly Quinlan slotted a Knockninny free.
There was a lull in the scoring, the final 15minutes of the opening half yielding just four scores, two each. Ciara Parker pointed on 18minutes after a sweeping move involving Seana Feeley, Sinead Barrett and Cara Gray, Gray seeing her effort at goal saved by the visiting goalkeeper before Parker registered the rebound. Quinlan landed 25th & 27th minute frees before Michelle Cullen hit the final score of the half from play after Seana Feeley & Sinead Barrett had carrying the ball upfield together.
Defensively Belcoo had done very well in the opening half, Eimear Gray made blocks and showed an aggressive side to her game, Kelly Connolly was reading the game well at full back, ably assisted by Arlene Furey while Leona McNulty and Cara Gray offered support as the side transitioned upfield. Half Time: Belcoo 2-5 v 0-4 Knockninny.
Having lost the throw up Belcoo won the ball back, Feeley & Barrett again playing a one-two before Elaine Maguire took possession and offloaded to Michelle Cullen for a well taken point. Sam Martin won the kickout, found Ciara Parker, she was fouled and Elaine slotted the free. Quinlan did likewise at the other end before hitting a point from play, the 38th minute score was to be her sides last.
Points from Cullen (2), Maguire and the excellent Seana Feeley had Belcoo pulling away while Sam Martin hit her first goal on 40minutes reacting quickly to a loose ball in the goalmouth. Scarlett O'Connor and two Elaine Maguire points was those players last piece of action. Substitutes Crona Higgins and Eimear Higgins combined immediately to set Sam Martin up for her second goal on 48minutes. Martin goaled again a minute later after Leona McNulty had picked up the breaking ball in midfield while points were added by Cullen & Feeley.
With 5minutes to play Sam Martin registered her fourth goal, Sinead Barrett slotted a long-range point while Michelle Cullen knocked over her seventh point from play in the contest as the O'Rahilly's eased to a convincing win in the end.
There were loads of positives to take from the contest, the style of football, the accuracy of pass, the options available, the conversion rate, the defensive squeeze to name a few. Eimear Higgins returned to the field after 19months on the sideline, Amy Hynes made her first competitive appearance, the panel was 18 strong last night with a half dozen more players missing. The signs are good, Enniskillen in Brewster on Sunday 4th June the next outing.
Team (15 a side): Riona Keaney, Eimear Gray, Kelly Connolly, Arlene Furey, Cara Gray, Leona McNulty, Rhianne McGuinness, Sinead Barrett (0-1), Seana Feeley (0-2), Eve Barrett, Michelle Cullen (0-7), Sam Martin (4-1), Scarlett O'Connor (0-1), Elaine Maguire (1-5, 2f), Ciara Parker (1-1). Subs Crona Higgins 42mins, Eimear Higgins 46mins, Amy Hynes 46mins.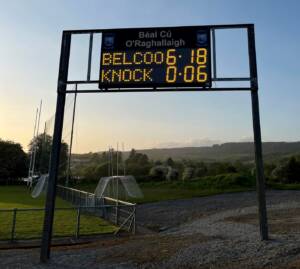 By pmcgrath
Fri 19th May