The Senior Ladies made it two wins on the spin as they comfortably dispatched Enniskillen Gaels in Brewster Park on a glorious Sunday morning. The O'Rahilly's were sharp from the opening seconds and continued to stretch their league across the hour.
A goal from the throw in from Belcoo set the tempo for this one, Sinead Barrett and Michelle Cullen combining to set Elaine Maguire through for the 3 pointer. Arlene Furey who had a great game won possession having been out in front of her player on the Cinema side, she fed the ball to Sam Martin who after a wonderful weaving run kicked a superb point from distance.
A Cara Gray block 4minutes in as the Gaels looked to open their account started Belcoo's sweeping upfield move, Elaine Maguire and Ciara Parker worked well before Seana Feeley took up possession and kicked a fine score. Arlene Furey was again to prevent an Enniskillen attack as she turned over the ball, Michelle Cullen and Maguire worked a neat one two before Maguire fed Ciara Parker who made no mistake, hitting the net from close range.
Sinead Barrett won a foot race for a loose ball and carried it forward before slipping it into Maguire who in turn found Eve Barrett and she drilled to the net. Two frees followed from Elaine Maguire after she'd been upended. 3-4 to 0-0 after just 7minutes. Lorna McEniry was excelling defensively for the O'Rahilly's having came out with numerous possessions with Crona Higgins providing good support.
Enniskillen did muster a response coming to the water break, Aoibhe Judge goal'd and Aoibhin Kelly pointed but Belcoo had the final say. Cara Gray and Leona McNulty worked the ball out of defence to Scarlett O'Connor on the right, Elaine Maguire was coming off the shoulder and slipped through one on one making no mistake with the finish to the net.
The second quarter seen Belcoo hold the hosts scoreless. The O'Rahilly's started fast again, a superb run from Sam Martin seen her feed Elaine Maguire for a point. Lorna McEniry was again first to possession in front of her player and cleared to Seana Feeley on the left sideline. Feely powered down the wing, carrying the ball all of 60yards before striking it over via the top of the crossbar. The next three scores were frees by Elaine Maguire with Michelle Cullen having been fouled for two of them. With half time approaching Seana Feeley powered down the right and rattled the ball into the roof of the net. Half Time Enniskillen 1-1 v 5-9 Belcoo
Michelle Cullen landed the first score of the second half after taken a recycled pass from substitute Eimear Higgins before Aoibhe Judge hit her second goal for Enniskillen. Belcoo responded with a well taken points from Eimear Higgins and Elaine Maguire (2). With the second water break approaching Eimear Higgins drilled a low shot to the corner of the net to leave it 6-13 to 2-1 in her sides favour.
The final quarter seen the O'Rahilly's remain in control. Defensively Stephanie Maguire had done well on a few occasions with Goalkeeper Mikayla Maguire finding sky blue jerseys from kickouts. The visitors added to their tally over the final quarter. Michelle Cullen and Elaine Maguire with goals while Cullen, Maguire (2), Feeley and Eve Barrett slotted points. Feeley's score a notable one as Sinead Barrett retained possession very well close to her own goals under pressure from Enniskillen forwards, Barrett found McEniry who picked out Kelly Connolly with a good pass on the wing, Connolly was to find Leona McNulty, she found Eimear Higgins who fisted to the supporting run of Feeley and she fired over from distance. The home sides sole reply a Aoibhe Judge free kick late on. Tougher tests lie ahead but for Belcoo, it was a very good display of free flowing football. Up next they travel to league leaders Derrygonnelly A.
Team: (15 a side) : Mikayla Maguire, Eimear Gray, Lorna McEniry, Crona Higgins, Cara Gray, Leona McNulty, Arlene Furey, Sinead Barrett, Seana Feeley (1-3), Eve Barrett (1-1), Michelle Cullen (1-2), Sam Martin (0-1), Scarlett O'Connor, Elaine Maguire (3-10, 6f), Ciara Parker (1-0). Subs Eimear Higgins (1-1), Stephanie Maguire, Kelly Connolly, Amy Hynes.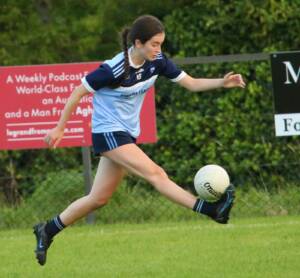 By pmcgrath
Mon 5th Jun