Huge thanks to Ethna Fitzpatrick of EMC Accountancy for sponsoring the G4MO team a set of Jerseys (see Picture). Your support is greatly appreciated. Our Gaelic4Mothers & Others were at the Ulster Blitz in Maghera at the weekend and had a wonderful experience.
The Senior Men lost 1-14 to 0-8 in Belleek last Friday, they take forward 1 point into the main league which commences on Friday 23rd June, they will travel to Ederney for an 8pm throw in. 
The Reserve Men suffered a 7th straight defeat as they went down 2-8 to 0-5 at home to Roslea on Sunday. They travel to Newtownbutler this Saturday for 6.30pm throw in.

Our Under 15 Boys are in the B Championship Quarter Final on Thursday, they host Devenish at 7.30pm. We wish them all the best in the Competition.
The Senior Ladies lost out by a point in a high scoring game with Derrygonnelly last Sunday morning, 3-23 to 7-10. They host Newtownbutler this Sunday at 10am. 
Our Under 13 Girls won 14 to 10 against Aghadrumsee last week, they travelled to Belnaleck on Monday, result on our facebook page. 
Primary School Coaching will continue Friday from 6pm to 7.15pm at the Football Pitch. 
Tea & Coffee will be open at underage training as well as all match days. We remind all patrons that there are numerous bins available at the grounds to put rubbish into. Some recent game days have seen the place badly littered. It only takes a few seconds to walk to the bin to help keep the place tidy. Thank you for your continued support.
The club recently adopted their Child Safeguarding Statement. The Statement is a written statement that specifies the safeguarding service being provided by our Associations and our units, and the principles and procedures that ensure, as far as practicable, that a child availing of our service is safe from harm. The Statement is available to view on facebook and the club website.
We look forward to welcoming Gambling with Lives on Wednesday 21st June at 6.30pm in LCC for club members, players and community. This was something brought forward at the Open Night a few months back. 
Congratulations to Tina Gallagher who was the Fermanagh Herald Sports Personality of the Month.
Club Lotto results on Monday 5th June. Letters were A, N, Q, T, V. Lucky Dip £15s went to Fiona Gallagher, Paul McGrath, Kevin McPartland and Michael Lee. Lotto Jackpot is now £2,900.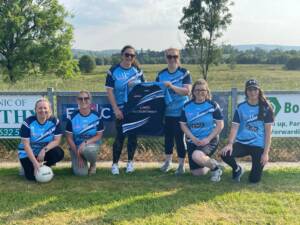 By pmcgrath
Mon 12th Jun